Apple today announced new Pride bands for the Apple Watch, with new Pride Edition Sport Loop and Pride Edition Nike Sport Loop options available.
The new Pride Edition bands are available to order today for $49 on Apple.com and in the Apple Store app, and will be available at Apple Store locations starting May 26. The Pride Edition Nike Sport Loop is also coming soon to Nike.com.
This year's Pride Edition Sport Loop features the word "pride" woven directly into the band. The band's color gradient includes both rainbow colors and colors drawn from various pride flags, including light blue, pink, white, black, and brown.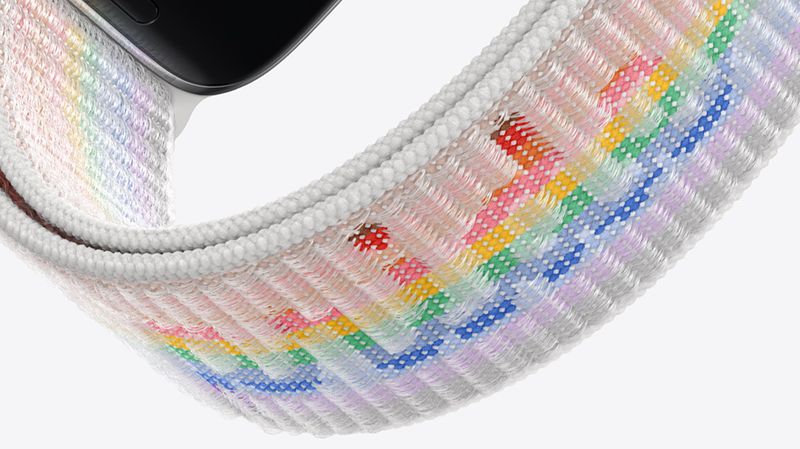 The new Pride Edition Nike Sport Loop "celebrates the full spectrum of the rainbow" and features a matching rainbow-colored Nike Bounce face.
A new Pride watch face is also available today for the Apple Watch Series 4 or later running watchOS 8.6, and iPhone 6s or later running iOS 15.5. Inspired by multiple pride flags, Apple said this new watch face "combines colors to represent the strength and mutual support of the LGBTQ+ movement." The watch face's colorful threads move as the Digital Crown on Apple Watch is rotated, the display is tapped, or the wearer's wrist is raised.
Apple is also launching a new "Shot on iPhone" campaign on Instagram that "captures the essence of artists and figures within the global LGBTQ+ community."
Related Stories
Apple to Launch New Apple Watch Pride Bands as Soon as This Week
Update: Since this story was published, Mark Gurman has clarified that he was referring only to new Apple Watch Pride bands, not a new "Pride" version of Apple Watch. The story headline has been revised to reflect the clarification. Apple will soon announce the launch of a new "Pride" edition of the Apple Watch Series 7, along with a selection of new bands to celebrate Pride Month, based…
Apple Introduces New Spring Colors for iPhone Cases and Apple Watch Bands
Following its first event of the year today, Apple has introduced new colors for the iPhone 13 and iPhone 13 Pro MagSafe cases and Apple Watch bands for its Spring 2022 collection. The new case colors for the iPhone 13 Pro include Lemon Zest, Blue Fog, Eucalyptus, and Nectarine. All the cases are $49 and available starting today. The iPhone 13 MagSafe case shares the same colors. For…
Apple Launches Black Unity Braided Solo Loop With 'Unity Lights' Watch Face
Apple today announced the Black Unity Braided Solo Loop for the Apple Watch, as well as a new downloadable watch face, to celebrate Black History Month. Following the launch of the limited edition Black Unity Apple Watch Series 6 and Sport Band in 2021, Apple today launched the Black Unity Braided Solo Loop as part of its celebrations for Black History Month this year.Apple is launching a…
Apple Watch Series 7 Features Exclusive Watch Faces Including Modular Max and Continuum
Coinciding with the new Apple Watch Series 7 debut, Apple has unveiled some new watch faces that will be exclusive to the new model. Amongst the new faces are Modular Max, Contour Face, and Nike Bounce, the latter of which is exclusive to the Series 7 Nike edition. The Modular Max displays the digital time alongside a single complication, and includes longer complications that display…
Apple Announces New Apple Watch Sport Loop Bands Representing 22 Countries
Apple today announced a new set of Apple Watch Sport Loop bands with colors representative of 22 countries around the world, alongside custom Apple Watch faces for each of those countries. The full list of the countries represented within Apple's new "Limited Edition International Collection" can be found below: Australia Belgium Brazil Canada China Denmark France Germany …
Black Unity Braided Solo Loop Available at Select Apple Stores Starting Today
The new Black Unity Braided Solo Loop for the Apple Watch is available starting today at select Apple Store locations around the world. Priced at $99 in the United States, the special edition Black Unity band is compatible with the Apple Watch Series 4 and later. In addition to Apple Stores, the band can be ordered online through Apple.com or the Apple Store app for a limited time….
Apple Executives Talk Watch Bands: Emphasis on Backward Compatibility, Design Philosophy, and More
In a new interview, two Apple executives have discussed Apple's wide range of Apple Watch band options for customers, how they're designed, and their thinking behind them. Evans Hankey, Apple's vice president of industrial design, and Stan Ng, Apple's vice president of product marketing, recently spoke to HYPEBEAST about Apple Watch bands. Apple has a wide range of Apple Watch bands for…
Nomad Launches New Sport Band Slim for Apple Watch
Nomad, known for its lineup of accessories created for Apple devices, today debuted a new Apple Watch band called the Sport Band Slim. It is an iteration on the Sport Band that Nomad also sells, but as the name suggests, it has an updated aesthetic. Priced at $60, the Sport Band Slim is made from an FKM fluoroelastomer rubber that is 100 percent waterproof. It includes interior ventilation…
Popular Stories
iPhone 14 Pro Screen Refresh Rate Upgrade Could Allow for Always-On Display
Last year's iPhone 13 Pro models were the first of Apple's smartphones to come with 120Hz ProMotion displays, and while the two iPhone 14 Pro models will continue to feature the technology, their screens could well boast expanded refresh rate variability this time round. To bring ProMotion displays to the ‌iPhone 13 Pro models‌, Apple adopted LTPO panel technology with variable refresh…
iPhone 14 Pro Renders Highlight Multiple Design Changes
Leaker Jon Prosser today shared ostensibly accurate renders of the iPhone 14 Pro, providing the most accurate look yet at what the device could look like when it launches later this year. In the latest video on YouTube channel Front Page Tech, Prosser revealed renders of the iPhone 14 Pro made by Apple concept graphic designer Ian Zelbo, highlighting a range of specific design changes…
Will the iPhone 14 Be a Disappointment?
With around four months to go before Apple is expected to unveil the iPhone 14 lineup, the overwhelming majority of rumors related to the new devices so far have focused on the iPhone 14 Pro, rather than the standard iPhone 14 – leading to questions about how different the iPhone 14 will actually be from its predecessor, the iPhone 13. The iPhone 14 Pro and iPhone 14 Pro Max are expected…
'High-End' iPhone 14 Front-Facing Camera to Cost Apple Three Times More
The iPhone 14 will feature a more expensive "high-end" front-facing camera with autofocus, partly made in South Korea for the first time, ET News reports. Apple reportedly ousted a Chinese candidate to choose LG Innotek, a South Korean company, to supply the iPhone 14's front-facing camera alongside Japan's Sharp. The company is said to have originally planned to switch to LG for the iPhone…
Apple Shares WWDC 2022 Schedule, Keynote to Take Place June 6 at 10:00 am PT
Apple today confirmed that the keynote event for the Worldwide Developers Conference will begin at 10:00 am Pacific Time on June 6, the first day of WWDC. The keynote will be an online-only event, although a select number of developers have been invited to the Apple Park campus for a viewing event. In addition to confirming the keynote date and time, Apple has shared the full WWDC 2022…
Apple Announces 2022 Pride Edition Watch Bands and Watch Face
Apple today announced new Pride bands for the Apple Watch, with new Pride Edition Sport Loop and Pride Edition Nike Sport Loop options available. The new Pride Edition bands are available to order today for $49 on Apple.com and in the Apple Store app, and will be available at Apple Store locations starting May 26. The Pride Edition Nike Sport Loop is also coming soon to Nike.com. This…
.
#Apple #Announces #Pride #Edition #Watch #Bands #Watch #Face